Aged Care Association Finalist - Terrace View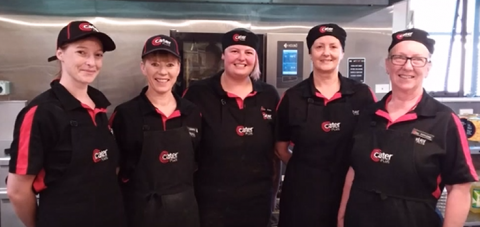 Cater Plus is proud to announce that our kitchen at Terrace View Retirement Village in Ashburton has placed as a finalist in the 2020 Aged Care Associations Excellence in Food Award for Care Homes and Hospitals. The award, sponsored by Bidfood, will be celebrated in November.
The team had a panel of judges visit their kitchen to evaluate their meals based on a range of criteria including taste, variety, and presentation, as well as the teams culture, resident satisfaction, and the processes we have in place in the foodservice at Terrace View. Site manager Steph Woods, Operations Support Brent Wilson and the team wowed the judges with a fantastic lunch of homemade fish cakes with a fresh green salad and homemade tartare sauce.
Residents in aged care facilities relish mealtimes, and it is part of their day they really look forward to. Providing wholesome meals that taste as good as they look is something we are passionate about at Cater Plus. We have received fantastic feedback from the residents at Terrace View in the 5 months we have held the contract. Residents have found their meals have improved "very much" and are much more appealing.
Congratulations to Steph and the team at Terrace View for this wonderful achievement, and for embodying our values of Passion for Food and Excellence in Service.

Back...