Annual Staff Party 2017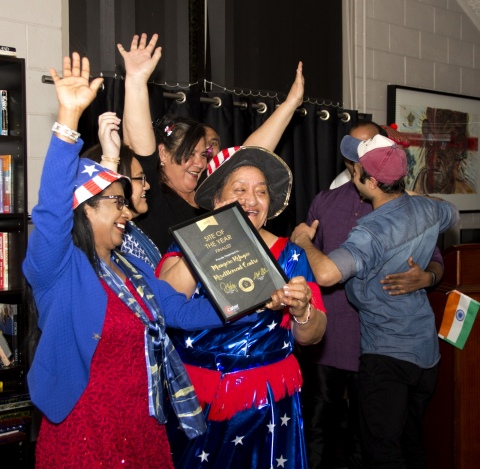 Cater Plus celebrated our annual staff party on 30th September with an Around the World themed evening that saw our staff taken on a cultural journey of cuisine, music, dancing and fashion. The Drums of the Pacific group performed during the evening, and with a mix of catchy Pacific drum beats and humour from the MC, the entertainment really captured the essence of the night.

Cater Plus employees are from as far abroad as India, Canada, Germany and Indonesia and it was a fantastic way to celebrate the diversity of our teams and to experience new flavours. Thank you to everyone who contributed their time and effort to cook their national dish.

As part of the celebrations we had our first annual awards ceremony to recognise the hard work and dedication of our staff.

Well done to Tere Iobu, from Mangere Refugee Centre and Aringa Tutu, from Shalom Court for taking the prizes for best dressed of the evening. You both looked fabulous!

We celebrated five years of service with Ben Wheatley, Mamalea Latu, Rosa Marsh, Manju Chand, Sandra Weichert and Jackie Curach. Our ten year service awards went to Linda Abey and Sharon McIntyre. You are all an integral part of our team and with Cater Plus' establishment 11 years ago, this is a fantastic achievement.

Our Commitment Award recognises our staff members who consistently go the extra mile in their role, and our ten recipients really make a special effort for their customers and their team.

Congratulations to Diane Hayward from Ons Dorp, Jackie Curach from Gillies Hospital, Ashok Bairi from Mangere Refugee Centre and Linda Abey from Fonterra. Also a big congratulations to Dhaya Subramani and Rageni Muthu from Elizabeth Knox Home and Hospital, Tufa Schuster from Sleepyhead, Anjali Yadav our floater, Trish Cook from Freeling Holt and Vini Vaevae from Turners and Growers. We wouldn't be where we are without you all!

The Passion for Food Award showcases our staff's talent and enthusiasm for producing exceptional food. With five finalists throughout the company it was hard to choose just one candidate.

Congratulations to Neil Dowie in Operations Management. You consistently produce outstanding food and showcase the skill and high quality of food Cater Plus offers through your function work.

Our third award in Excellence in Service, awarded to the person who embodies the Cater Plus spirit in producing an overall outstanding effort and service in all aspects of their operation. Congratulations to Binder Kaur Banga in winning the 2017 award for Excellence in Service. You are an asset to your residents and team at Elizabeth Knox Home and Hospital.

The final award for the night is the prestigious CEO Award presented by Paul Hodge for the person who embodies the Cater Plus spirit and goes the extra mile in every task they complete. To choose one person for this award was so challenging it was awarded to two people. Congratulations to Tash Hodge in Human Resources and Justene Coleman from Wintec. You both do an outstanding job for Cater Plus.

Congratulations to everyone who won awards, and to everyone who attended the annual celebration and dressed up in theme. It was great to celebrate our achievements together.

Back...