Apprentices for 2019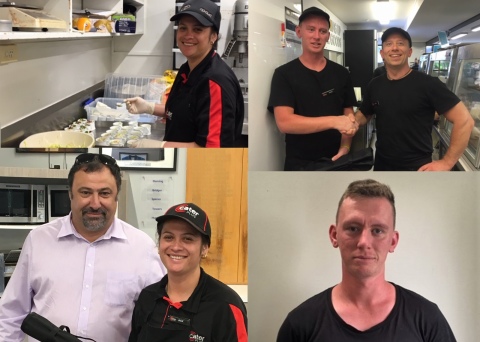 We are really excited to introduce our two new apprentices for 2019

Crystal Tuki
After returning home from Australia 5 years ago, Crystal kick-started her hospitality career with Cater Plus at Ambury Café in Fonterra Takanini. Working throughout a variety of kitchens within Cater Plus, Crystal has developed a passion for food, and is to start her apprenticeship in the kitchen at Mount Albert Grammar School House.

Crystal is a talent with food; often involved in our VIP functions and last year worked at the Refinery Shut down Project for 5 weeks.

Crystal took up the chance to apply for the Apprenticeship Scheme this year as a natural progression within her role. She likes to have a goal to work towards, to be able to learn something new and she sees a real future with Cater Plus, so why not!
Crystal has an affinity with Asian cuisine, and brings this into her work. She loves what she does and looks forward to the variety the apprenticeship will bring.
In her own time Crystal is often raising money to buy or make food for people who don't have much. She recently made 70 pack lunches and dropped them around the city to people in need.

We can't wait to watch Crystal grow in this journey with a Cater Plus apprenticeship. Congratulations Crystal!

Jamie Hopgood
Jamie joined Cater Plus in 2018 as a casual for the Refinery Shut down Project. After living and working with the crew for 5 weeks, it was only natural for Jamie to join the Auckland team as a Floater. After working in Cater Plus kitchens throughout Auckland, Jamie is now based at The Dish Café at Sky TV.

Growing up in the country with a passion for race horses unfortunately saw Jamie with too many head injuries. But when one door closes another opens and, with his Granddad as a Chef, he was encouraged to apply for the apprenticeship. Already in a job he enjoys, it was an easy decision and Jamie found his new path as a successful applicant of the Apprenticeship.

Jamie enjoys the fast pace of the kitchen and the hands-on work. He has already started cooking lunches for the customers at the Dish Café and loves making food that people enjoy.

Congrats Jamie – Watch this Space!


Back...