Welcome to our Apprentices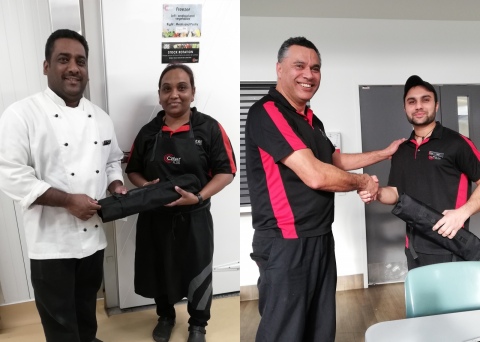 As the team at Cater Plus continues to grow, we would like to welcome our two new apprentices Tajinder Singh and Rageni Muthu!

Tajinder and Rageni are both dedicated team members at Cater Plus. Already producing some outstanding work, they bring a Pasion for Food and Excellence in Service to the catering at Mangere Refugee Center and Elizabeth Knox Home and Hospital.

Tajinder and Rageni will begin their training in September 2018, undertaking the New Zealand Apprenticeship in Catering Services through Service IQ. Both having impressive experience in the catering industry, they already bring a wide range of skills to the company including creating amazing meals for our customers and residents.

Throughout their apprenticeship they will build on their leadership skills, broaden their culinary knowledge, and specialize in areas of menu design and nutrition.
Cater Plus are looking forward to supporting Tajinder and Rageni throughout their apprenticeship and watching their skills grow. Congratulations!

Back...